Products & Services
For over 30 years, J. Barnes Electric licensed and insured electricians have specialized in providing both residential and commercial services to the North Shore area of Massachusetts. Our professional team works to achieve quality results for our clients, each and every time.
Residential & Commercial Services
J. Barnes Electric proudly provides electrical solutions for residential and commercial properties in the North Shore area of Massachusetts. Whether it is new construction, existing remodels and additions, general repairs, service calls or troubleshooting, we can ensure timely superior service to our clients. Our professional team will work to achieve quality results every time, no matter how complicated the job.

Residential & Commercial solutions include:
Interior Lighting Design & Installation:
Traditional interior lighting, decorative lighting and lighting control systems by Vantage ControlsTM

Exterior Lighting Design & Installation: Traditional exterior lighting, decorative lighting and lighting control systems by Vantage ControlsTM

Low Voltage Wiring: Telephone, data, cable television, audio/visual, structured wiring and low voltage termination

Electrical Services:
New service installation, service upgrades and repairs

Alarm Services: Security, fire and carbon monoxide

HVAC Systems: Heating systems (gas, electric, oil) and central air conditioning systems

General Electrical Wiring, Installation & Repairs: Pools, hot tubs, spas, central vacuum systems, motor controls, ceiling fans, doorbells, intercoms, telephone systems, audio/video services and more
Automation & Integration
What is Automation?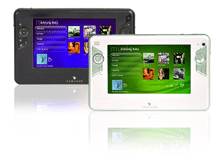 Simplify your home and business technology with integrated solutions by Vantage ControlsTM. J. Barnes Electric specializes in the latest in home automation as an authorized Vantage dealer and installer with the new Infusion System for both residential and commercial projects. This highly scalable award winning control system by Vantage ControlsTM provides convenient home automation integration with features including security systems, climate control, audio/video equipment, thermostats, landscape, window treatments and custom lighting to name a few. For commercial use, business owners can easily integrate their business, monitor security, control climate and lighting all from a single location in a cost effective manner.
J. Barnes Electric is an authorized installer of several traditional lighting products including many of the leaders in residential and commercial decorative, recessed and track lighting. Lighting integrated with home automation allows custom tailored lighting scenes at the touch of a button.
Why Automate?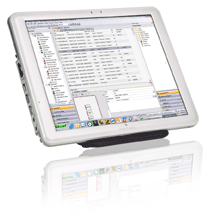 As a leading brand for home automation and lighting control equipment, Vantage ControlsTM has carefully developed their products, integrating convenience and simplicity of use with attractive, elegant keypad design and system functionality. Customized keypads, touchscreens, remote controls, motion, light or contact sensor interfaces replace outdated switches to give homeowners sophisticated control of their residence both locally and from a remote location via the Internet. There is endless value in the ability to rest assured your home is under your control while you are away, literally.
With programmable settings, homeowners are able to easily control their smart home with a touch of a button. Sensor technology is also used to trigger automatic energy and cost-saving activities such as dimming lights in unoccupied areas. Pre-programmed scenes can adjust window treatments and lighting levels automatically based on the time of day or established lifestyle patterns. Thermostat temperatures can adjust automatically according to room occupancy. Scenes can also be programmed to do multiple commands at once based on an activity such as going to bed, reading or working out. The power of your home automation system is only limited by your imagination.
Vantage ControlsTM
In addition to being an industry-leading brand for home automation and lighting control equipment, Vantage ControlsTM has been consistently
awarded for their superior products including: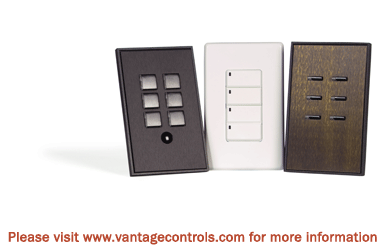 Manufacturers Excellence Award for Best Home Networking Product
Electronic House Magazine Award for Product of the Year
CEDIA Award for Electronic Lifestyles
Home Automation Magazine Top 50 Editors Pick for Home Automation